This understated, moving and humane Japanese drama (direct translation: 'Shoplifting Family') won the Palme d'Or at Cannes in 2018 and it's easy to see why: the film gets under your skin and stays with you long after the credits have rolled. Writer-Director-Editor Hirokazu Kore-eda inspires naturalistic and nuanced acting from his ensemble cast and creates several memorably cinematic scenes amidst the small-scale canvas of domestic life.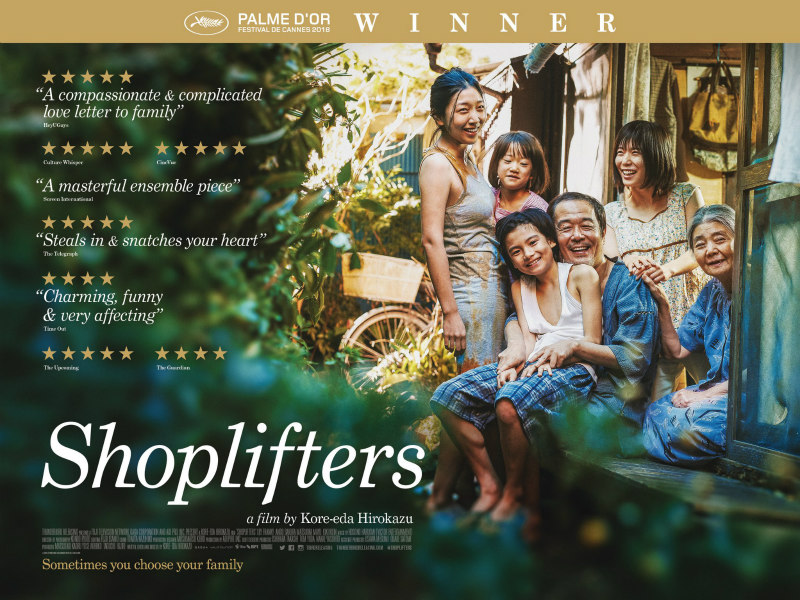 Shoplifters feels like a Ken Loach film in its compassionate and unsentimental depiction of poverty. It also put me in mind of The Florida Project (2017), which shows us 'diamonds in the rough' of breadline America.
The Shibata family appear to be an unusually happy family, doing all the fun things that many families do – going to the seaside, watching fireworks, making a snowman and slurping noodles. But here the grown-ups teach the kids how to shoplift, rather than sending them to school. "We're connected but we're not normal," says father figure Osamu (Lily Franky). This is an unconventional family unit based on love and choice, rather than bloodline, and Kore-eda asks us to ponder the question: would we be happier if we could pick our own family?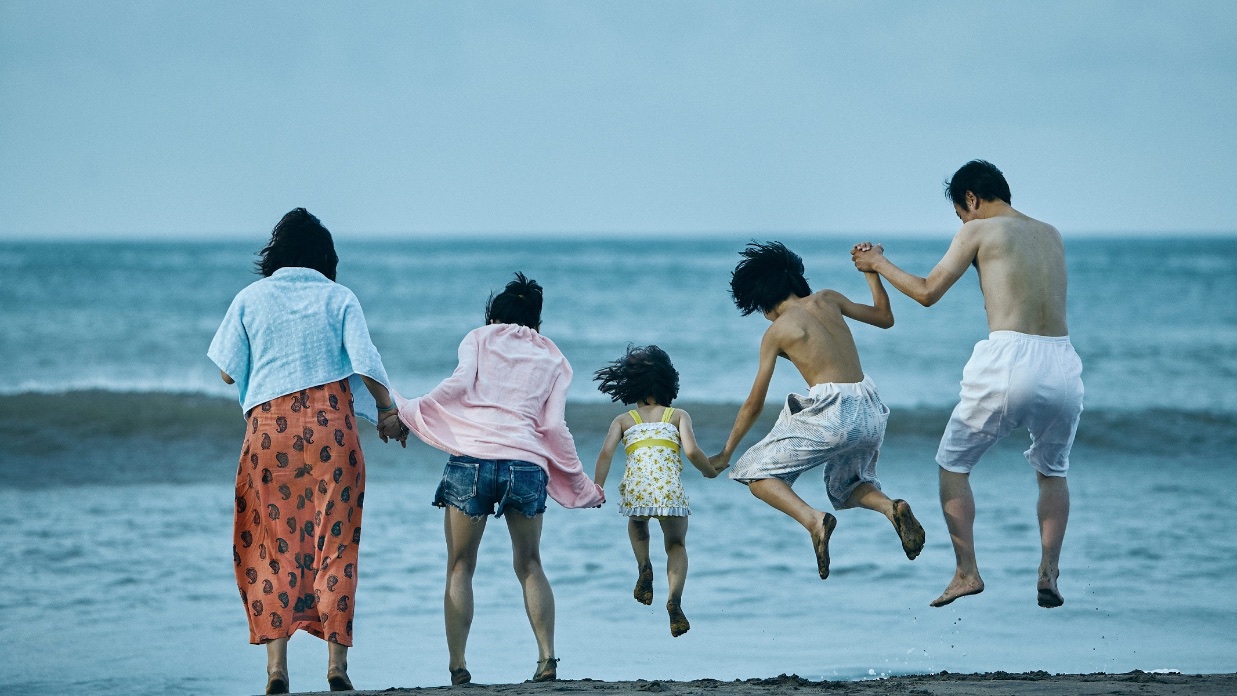 Shoplifters starts with Osamu (Lily Franky) and his 'son' Shota (Kairi Jo) stealing groceries in a supermarket, using a practised routine, syncopated to the film's music. On the way home they encounter a skinny little girl who is seemingly living on the street. As it is freezing cold, Osamu invites her to stay the night at their house.
The next day Osamu and his partner Nobuyo (Sakura Ando) try to take the girl, Yuri, home, but overhear her parents arguing, the dad saying "I didn't want to have her too". As a result, Yuri stays with them, despite concerns that the outside world will judge them to be 'kidnappers'.
The Shibata family squeeze into a cramped and cluttered Tokyo apartment which resembles the back room of a charity shop. Osamu and Nobuyo work part-time and grown-up daughter Aki (Mayu Matsuoka) is a sex worker, but they supplement their income by shoplifting. "Whatever's in a store doesn't belong to anyone yet", says Osamu. This ramshackle family are free spirits and live in apparent harmony and kindness, in contrast to other more traditional families depicted in the film.
As the disturbing truth about the Shibata family gradually emerges, Kore-eda overturns our preconceptions and challenges us to judge his characters' behaviour. We might to agree with Nobuyo that "giving birth doesn't automatically make you a mother." 'Grandma' Hatsue (Kirin Kiki) says she chose to live with Nobuyo because she didn't want to grow old on her own – "Sometimes it's better to choose your own family."
In her last film before her death Kirin Kiki is a warm, wise and twinkly granny, who gets many of Shoplifters' best lines. After Aki models her latest top, she asks "so side tits are popular now?"
In a film that is mostly confined to interiors, its standout scenes include a train ride to the seaside and the aerial shot of the family watching fireworks. Here we do not see the fireworks at all, only upturned faces responding to them. As ever, Kore-eda is unconcerned with pyrotechnics; he is more interested in how his family interact with each other and the outside world.